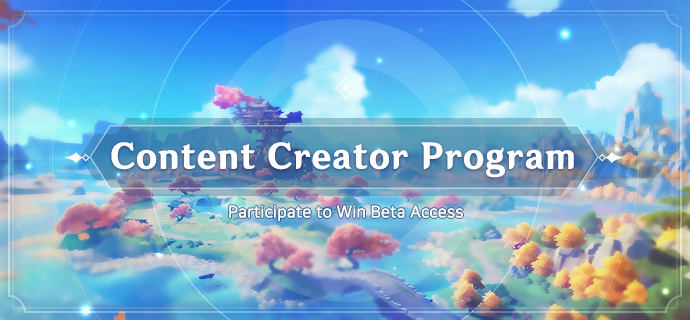 Hello Travelers, greetings from Caroline ~>w<
While we prepare for the Final Closed Beta of Genshin Impact, Caroline think it's the perfect time to re-initiate the 'Content Creator Program'. Those selected can bring your own content to all the Genshin Impact players out there and in return win the much coveted Final Beta access.!
(PS:Registration is still open for the Final Closed Beta of Genshin Impact. Please stay tuned to our official channels for the latest news~)
【Content Creator Perks】
1、Final Closed Beta access to the chosen ones
2、In-game benefits as well as official merchandise
3、Content Creator role on Official Forum and Discord
【Content Creator Types】
1. Artist:produce high-quality illustrations and fan arts
2. Writers/Editors:compose/edit game guides and wiki
3. Media:make game screenshots and related media
4. Indie Game Developer:create and develop mini-games
5. Streamer:stream the game, those with previous experience preferred
6. Video Editor/YouTuber: create videos such as MAD and short videos; make walk-through or game guide type of videos(Content Creator experienced in guides/tips and tricks videos on the PS4 preferred!)
(please attach links to your previous works in your application!)
【How to Apply】
If you meet one or more of the above requirements, send your application to genshin_cm@mihoyo.com
Please include the following in the subject of your email:
【Content Creator Program】+ your name
Please include the following in your email:
Content Creator Type:
Content Creator nickname:
miHoYo Account:(Also include the email linked to this account)
Your Skills:(please include any relevant skills)
Personal Bio:(Briefly introduce yourself. For example: I'm still in college, avid gamer, fan art creator for xxx project…)
Portfolio :(Link or attach your previous works! If the link is to your personal profile, please include a screenshot of the log-in interface to prove your identity!)
Discord Account:(We will contact you via Discord, if you don't have one, please provide your Facebook page or other forms of contact.)
【Reminder】
Those chosen are obligated to create content related to Genshin Impact for the category they are expert in, and we will provide continuous official support.
There's a limit in number for each type of content creators we are looking for, so please don't hesitate to apply~
Content creators for the previous beta are NOT automatically chosen, if you wish to participate this time and retain your content creator role, please email genshin_cm@mihoyo.com and attach the works you created during the previous beta!
Due to the amount of emails received, we will respond within 3 working days, thanks for your understanding.