Travelers!
Here's some information from the development team that replies several questions frequently asked by people. Hopefully it includes the content you want to know. I'm gonna translate the text in the image for you. (maybe a bit weird)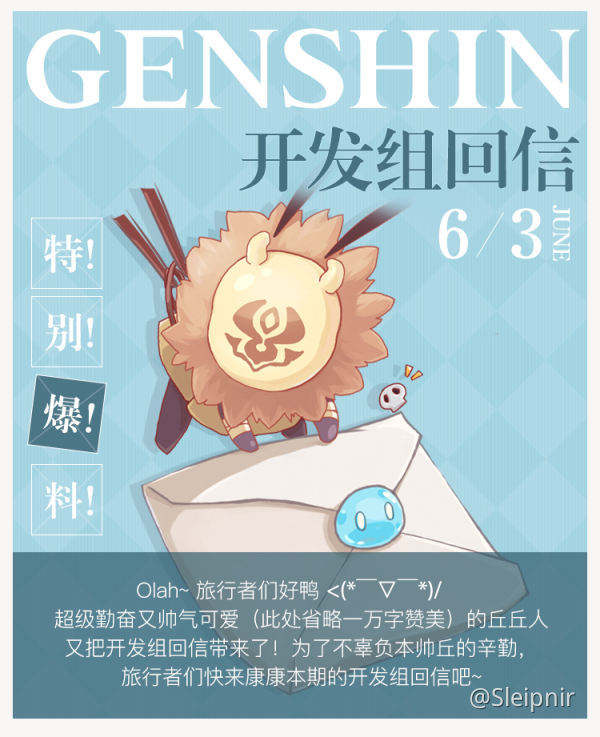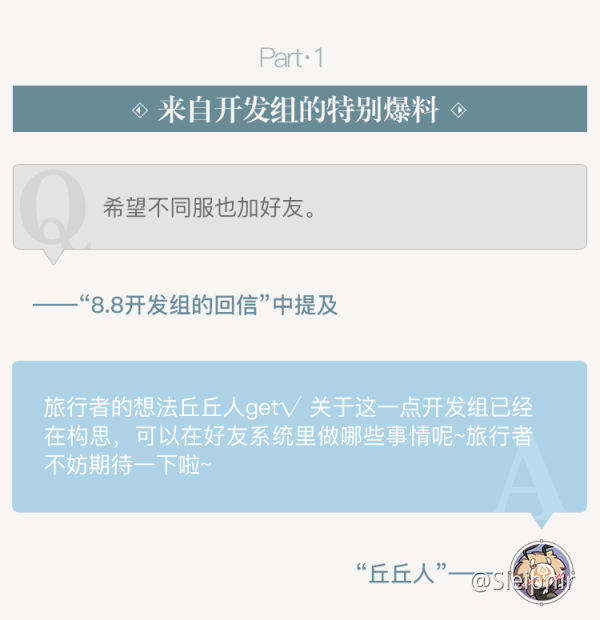 Traveler: Hoping people from different servers can add friends.
Hilichurl: The development team is already thinking about it. What can travelers do with the friend system? Let's hope for it.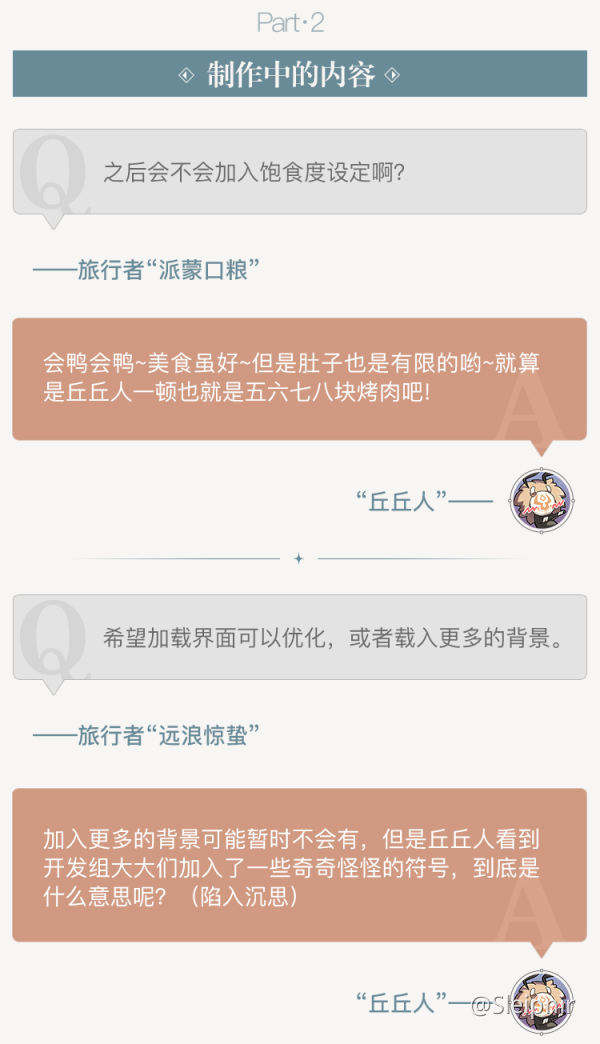 Content in production
Traveler: Will you add restriction of eating food (satiety)?
Hilichurl: Sure, food is delicious but your belly is limited. Hilichurl only eats five or six or seven or eight pieces of meat for a meal.
Traveler: Hoping the loading screen can be optimized, or load more backgrounds.
Hilichurl: Adding more backgrounds isn't achievable in the short term, but Hilichurl sees developers add some weird symbols. What does that mean? (deep in thought)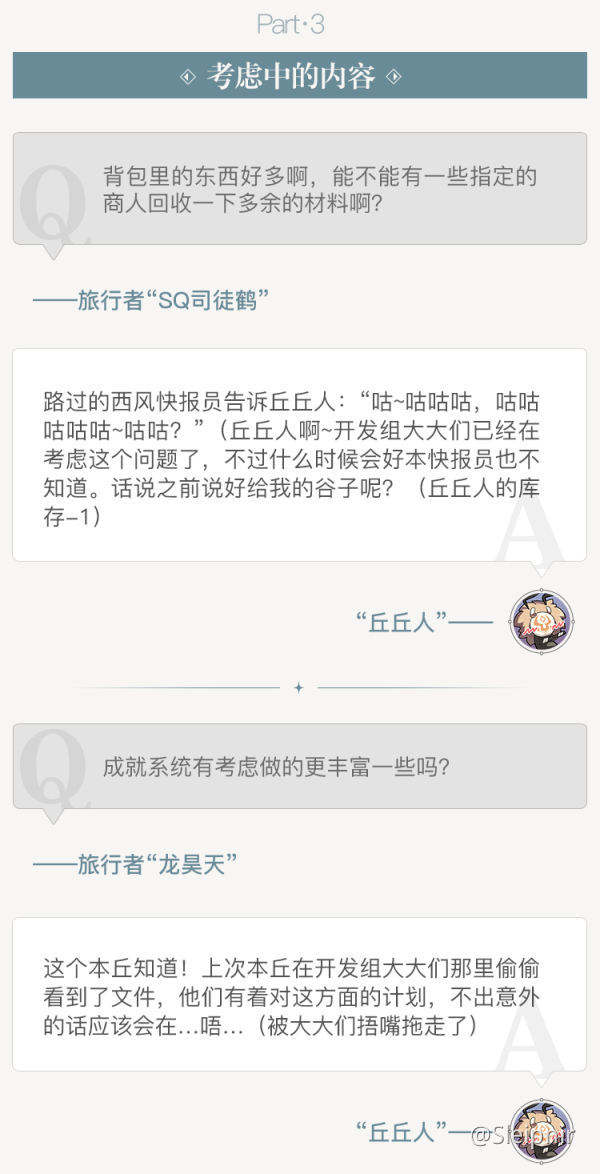 Content under consideration
Traveler: There are too many items in the backpack. Can you hire a merchant so that we can sell off unnecessary items?
Hilichurl: A passing reporter tells Hilichurl: "gu~gugugu, gugugugugu~gugu?" (Hilichurl~developers is already considering this problem, but I don't know when it gets done. By the way, give me the millet that you promise before (Hilichurl's stock-1)
Traveler: Consider adding more content to the reputation system?
Hilichurl: Yeah, Hilichurl've seen a relevant fold from developers. They have plans for improving the reputation system. If there is no accident, it should be released in.......(dragged away by developers)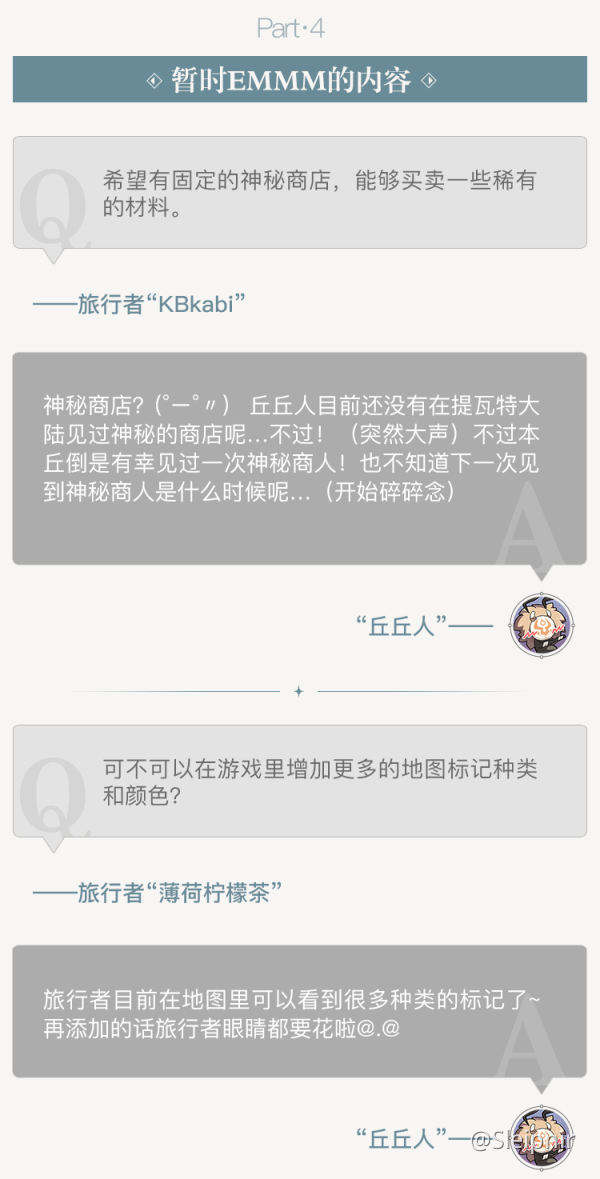 To be determined
Traveler: Hope for a secret shop where we can buy and sell rare items.
Hilichurl: Secret shop? Hilichurl haven't seen any secret shops in Tavern. But! (suddenly loud) but Hilichurl have seen a secret merchant fortunately! Don't know when to meet him next time....(murmuring)
Traveler: Can you increase the variety of map makers and their colors?
Hilichurl: Traveler, there have been various types of makers~adding more will cause giddiness.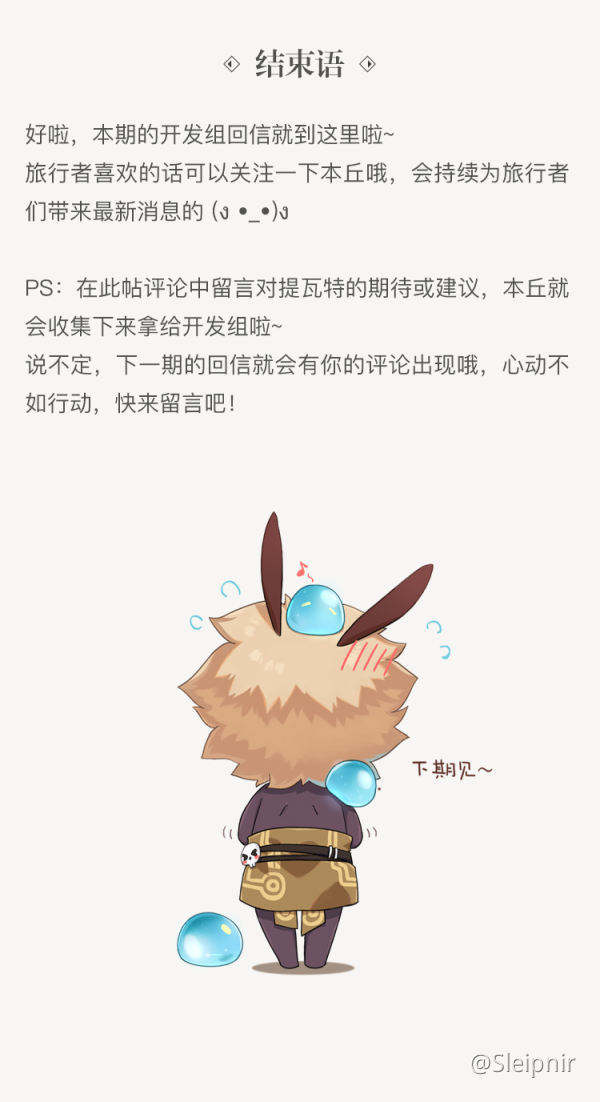 Ending section
Well, enough talk.
Don't forget to follow Hilichurl who will keep updates
PS: Leave your suggestions under the post so that Hilichurl can collect them and deliver to the development team. Perhaps, your comments will be replied and posted next time. Come on!
See you next time~