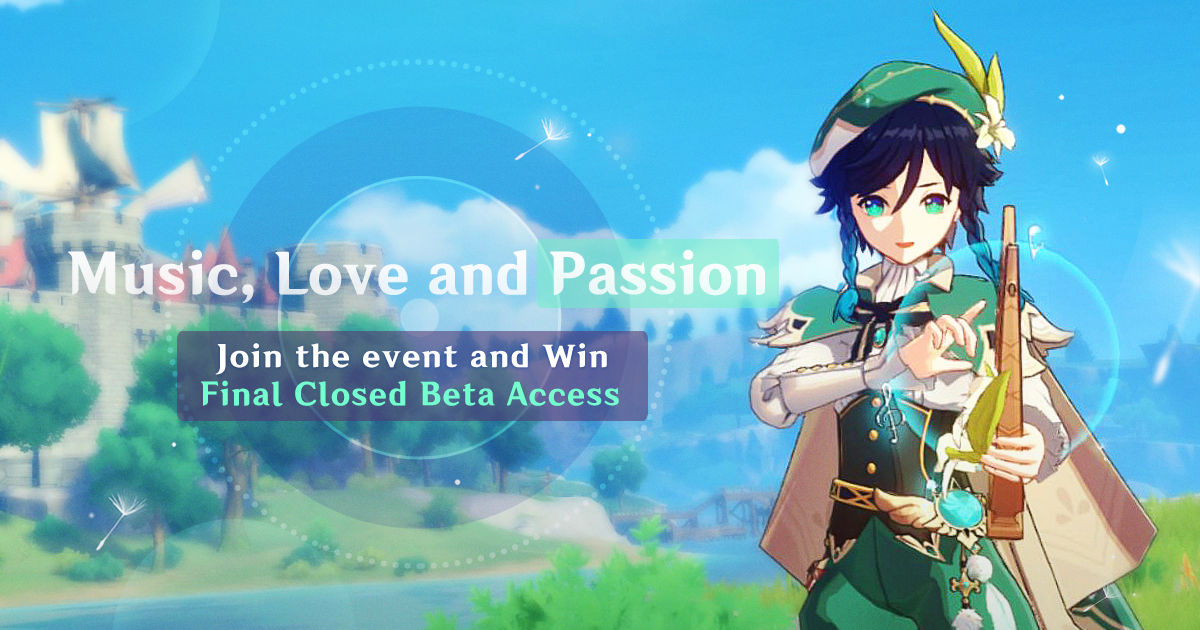 Dear Travelers,
Caroline recently strolled through the countryside between Mondstadt and Liyue listening to the amazing music created by Mother Nature (๑•̀ㅂ•́)و✧
The Sonata that is made up together with the river that runs with glee accompanied by the night breeze that is born next to Cider Lake. Cranes were pacing the shores, singing beautiful and calm songs.
The folk song notes created by the raindrops and the brave wild boar are part of a concert where the wind marks the rhyme blowing the leaves of the Liyue forest
Traveler, come and compose a beautiful score of Genshin Impact for Caroline!
【Duration】
Event will end on June 18th, 2020 and winners will be announced on the 19th.
【How to Participate】
Travelers can use the third-party music website included in this post, or any instrument they can play in real life to recreate a piece from Genshin Impact.
Please post the link of the piece you created on the third-party music website or post the YouTube link of your own work.
If you are looking for inspiration, here is the Genshin Impact OST documentary:
(https://youtu.be/NWttfnCIX5E)
Third-party music site:https://musiclab.chromeexperiments.com/Song-Maker/
Here are two pieces Caroline recreated for your reference:
https://musiclab.chromeexperiments.com/Song-Maker/song/6009170307317760
https://musiclab.chromeexperiments.com/Song-Maker/song/4684569811877888
The amount of likes and replies to your post might influence the event result~
【Rewards】      
Final Beta Access x10                 
(´• ᗜ •`) ◞♡
【Reminders】
The works submitted by players in this event must be original works. Non-original works involving plagiarism and themes that have nothing to do with the reproduction of music from Genshin Impact will be treated as invalid. The content of the works shall not involve any sensitive or political issues。
Each person can only gain one key for the Final Closed Beta, keys obtained through other means will not be valid.
The Genshin Impact Official Community Team reserves the right of final interpretation of this event.
===== List of Winners =====
Following are all of the winners, congratulations! If you are among the lucky ones, please expect a system notification detailing the following steps you should take to get your beta key!
Outsider   1017949
Froker   1056602
Sotumney   1028358
PonPon   1126798
Kyojuni   1020179
samuelthx   6565731
Ferippe   6535572
GugaLins   6086326
picnix_   6444716
Mont   6571197