Dry Cargo Ahead.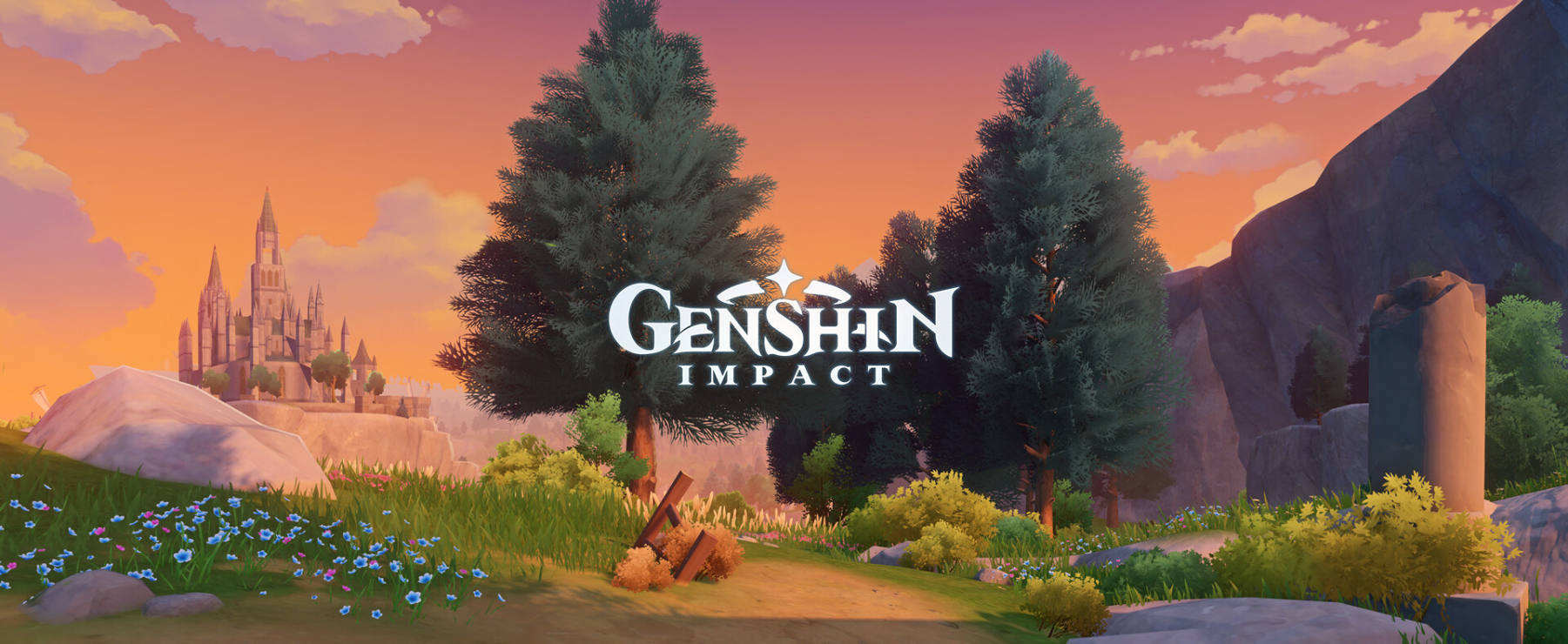 This is my Experience of CBT2 after playing Genshin for 125+hours. My final Post.
When you first play Gen shin Impact, the first thing you are gonna notice is the fact that the terrain is ABSOLUTELY HUGE.
That narrow ravine that leads your way to the opening you walking up the edge a cliff with Paimon staring at the never ending expanse of green, Mond in the middle, a huge moat surrounding it, is absolutely intimidating. Early on in the game when it's just you and your limited stamina crescent it can feel like you're gonna go through a lot to get to where you have to reach not in the sense that there's 'too' much to do, but a lot of this landscape can kind of feel kinda empty at times, in fact sometimes even I've gotten tired pressing on that 'W' key. Very recently I have seen a lot of people complaining on the fact that "Although there is so much stuff to do in the continent of Teyvat (the name of the main landmass of Gen shin Impact) there's always that sense of loneliness, of a relative mechanical silence as you hit up on that 'WADS' (or an Analog Stick) to go wherever you want to".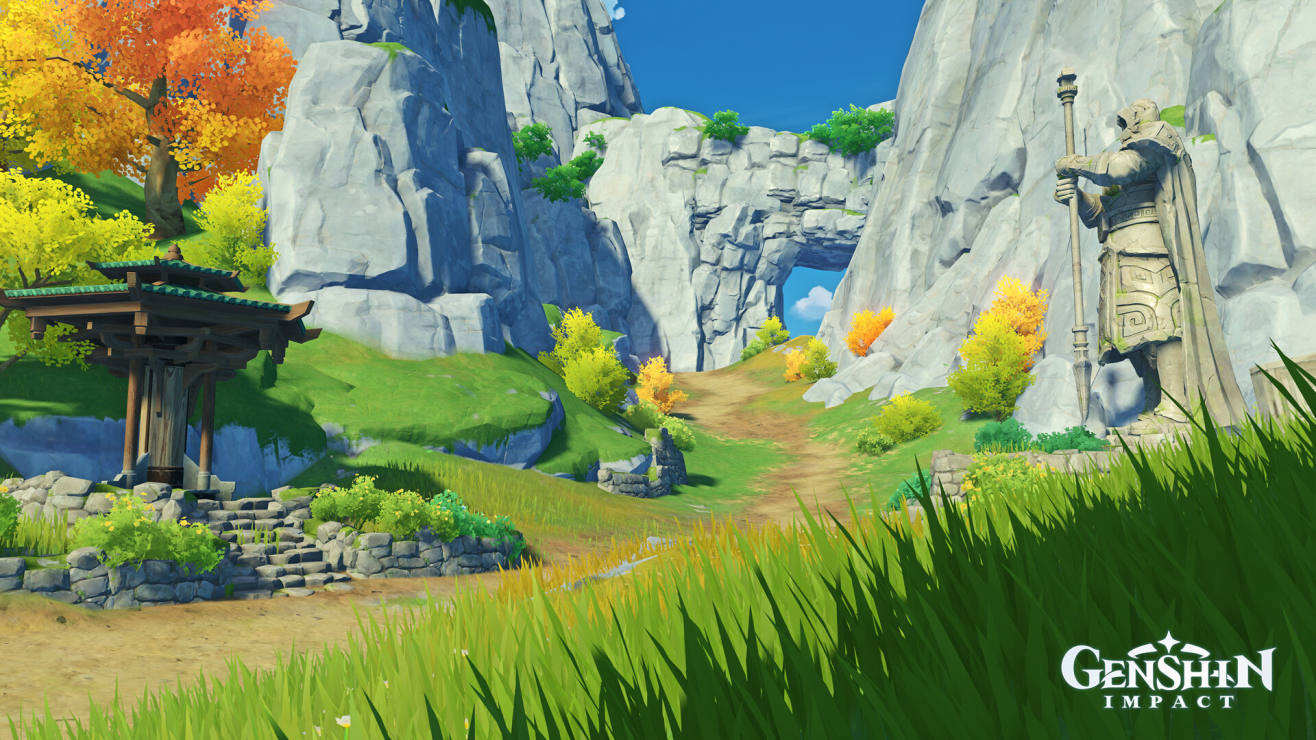 However what is wonderful about Gen shin Impact than many other open world games I played in recent memory failed to induce is that it revokes that sense of awe that comes from being absolutely dwarfed by your environment looking at the world as if it were your shell an infinite expanse of green.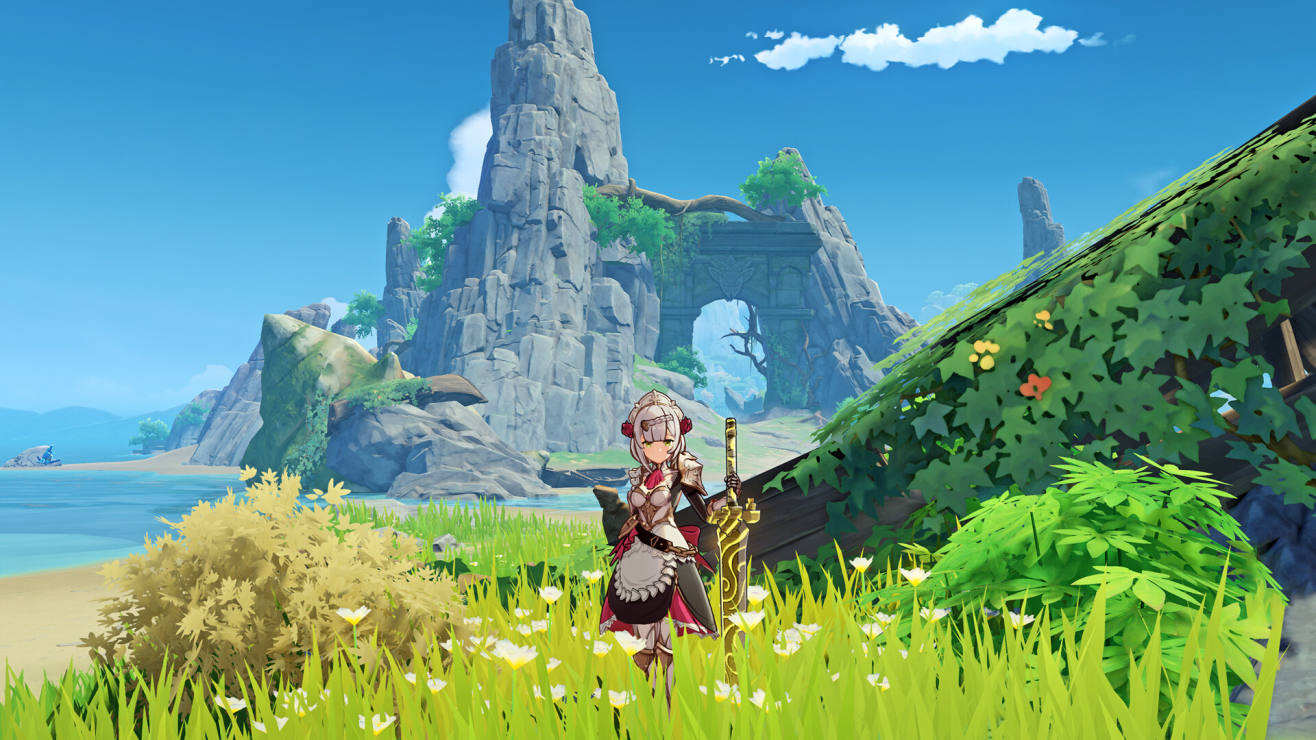 --------------YOU ARE THE PLAYER IN THE GAME, the mind behind your character and as such you want to find out more about what awaits you for you know nothing about the world and thus it compels you explore, you put in the work it takes to get to where you want to go because you have no idea what that place holds or even what that place is. Honestly speaking look at the Open-World games that are in the Market right now, 'most' of them I think fail to express the fact that you are in an Open-World, you are the mind behind the character you have to play as in the game. The games literally tell you where you have to go what path you have to take and even what you will find when you get there. In these so called 'Open World Games' you'll literally find your map ketchup ed with side objectives that usually serve absolutely no purpose in your progress of the game and are usually required only to level up in the game, they act like meaningless distractions and are suffocating. You're not solving anything, you're just taking your chores off a checklist. On the Contrary Gen shin Impact is on a purely geographical level and the player realizes the importance of those contours sliding over the map because you are just told to go to a location by an NPC who says "Go to Liyue, You'll find it to the south, Go through the path between the Two cliffs", and now the way you'll find this 'path is by staring at the map to find where the two contours overlap.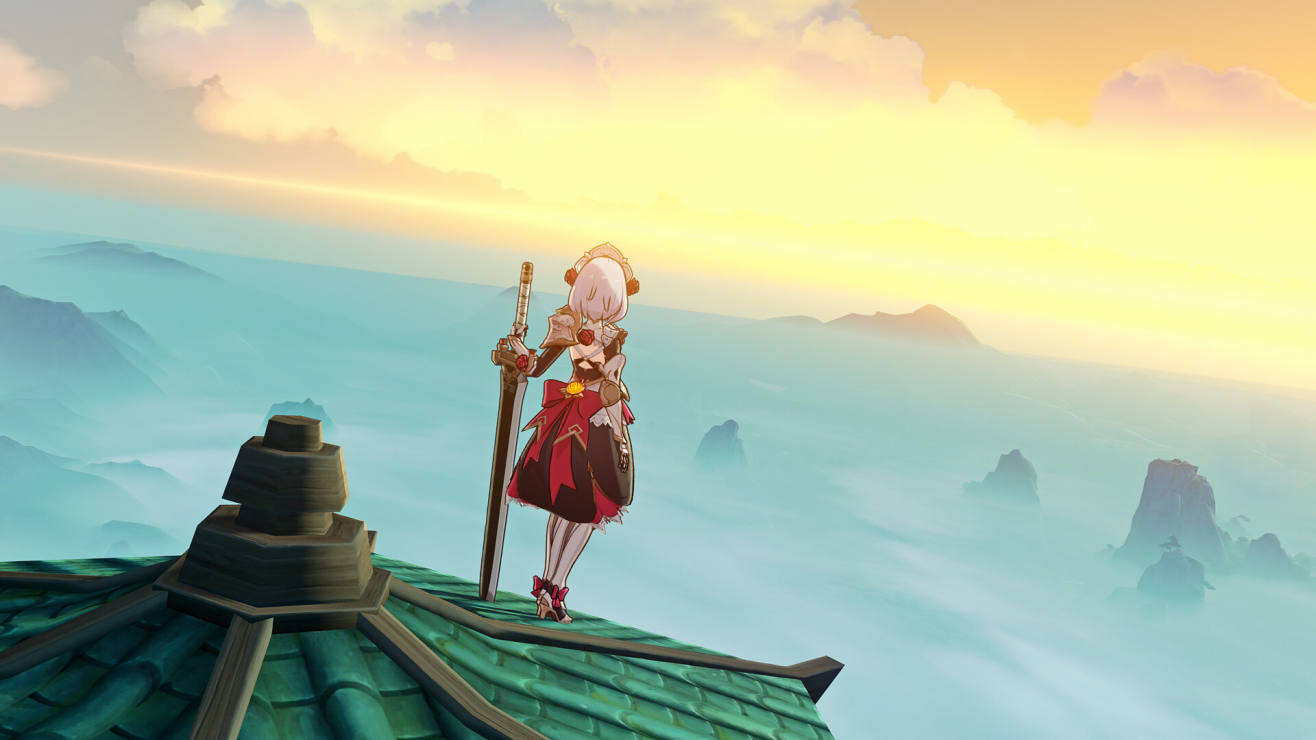 ----------------The main reason the discoveries you make in this world feels so significant is because there is so much empty terrain in between. When enemies appear on your quiet reflective journey across the world you have suddenly been interrupted, you had been pulled into a false sense of peace and security and have been slapped out of it by something you didn't expect like when you've been trans versing across the Jueyunjian(Cloud tearing peaks that sit shrouded in mist and clouds northwest of Liyue) and you find a huge tree with a broken barked revealing a neon blue inside you're absolutely going to be interested in checking that out. These vast stretches of seemingly nothing make something you come across impactful, when you find an NPC standing in the wilderness you will want to talk to them, precisely because the emptiness of the world makes you feel alone and it's a nice surprise to find someone else doing their thing and it makes your curiosity peak, suddenly making it a fairly significant discovery in what seems like a rather lonely location. "Who knows what I could find if I go this way or maybe climb up that cliff",you feel like an adventurer, the flow of discovery enhances your understanding of the world and as such you feel the desire to fill in those blanks of curiosity. The sense of space isn't just apparent in the geography of the world it's just how the game was designed.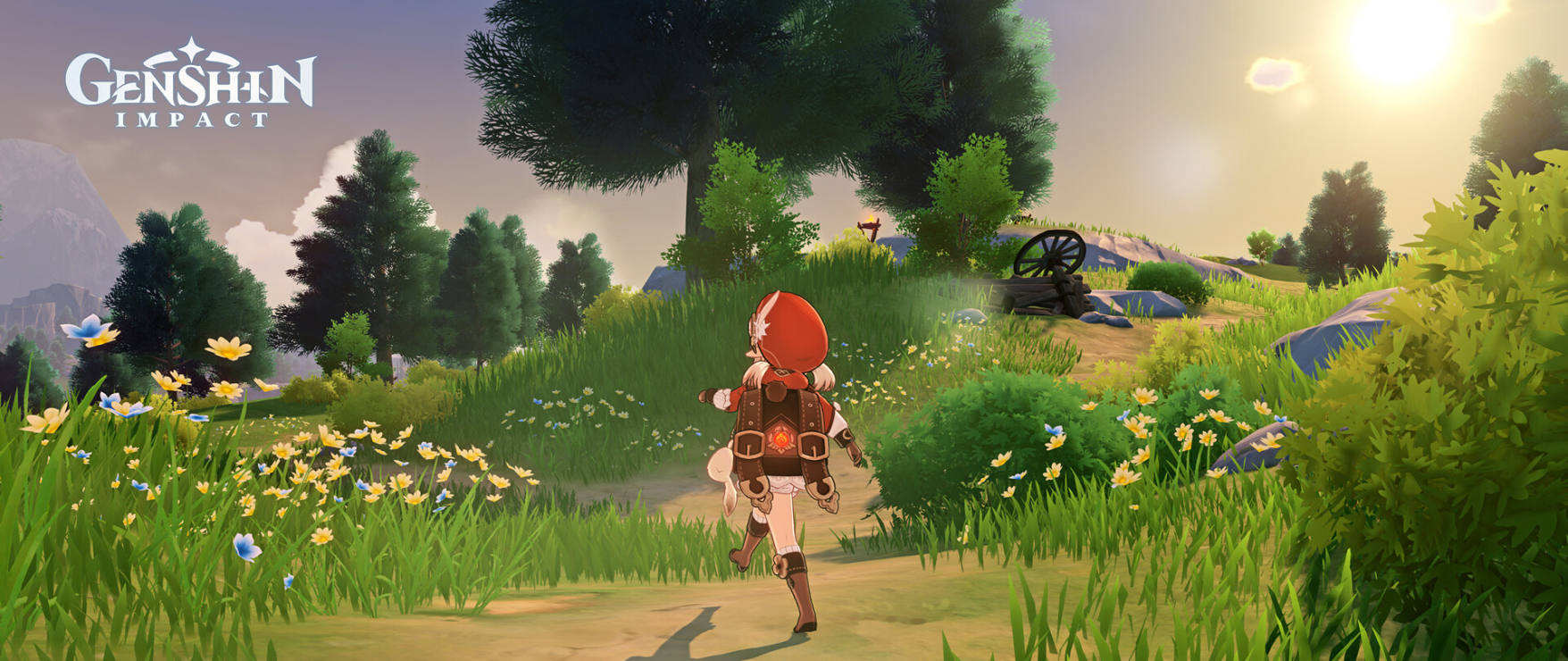 You of course get your basic controls inventory systems combat etc but aside from that the game is remarkably light on rewards, take the Enemy Encampments for instance you kill the enemies in them as you would in any Ubisoft game for example but here you're not rewarded with a bombardment of meaningless side objectives on your map these are just a useful vantage point that you can use to remember that you had been there. The real points of interest aren't highlighted they're just there somewhere waiting for you to find them. Take for instance when Katelyn asks you to take a letter to the Adventurers Guild in a distant city whereas most games would have waypoints guiding your path the only way point here guides your path is your 'Gut Feeling'. More practically it's the developers showing faith in their players intelligence and desire for exploration whilst also confidently asserting that 'yeah this objective is very far in the distance' and they just trust in the fact that you'll probably find some dope stuff along the way.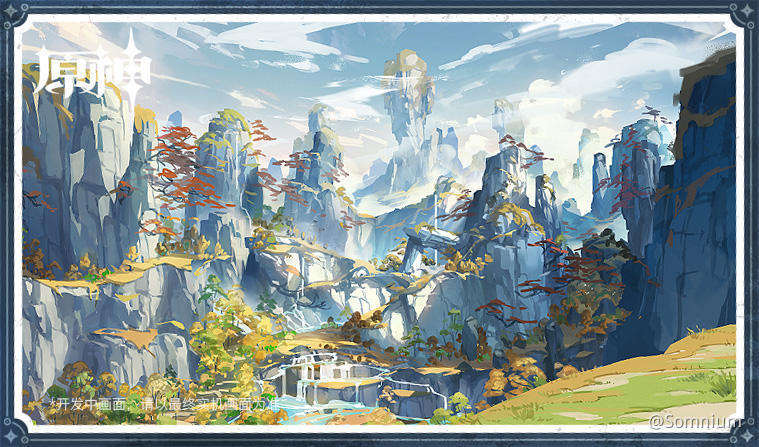 --------------------The sense of space is not only apparent in the world's geography, the sense of exploration is not only about the places you come across it's about piecing together the stories these places carry. Open worlds can be more important user wise than they are mechanically,that they don't need to offer the player a million to do at all times, the open world can be its own story using objects in the environment or lack of them to give you a better understanding as to the state of the world. You go through Teyvat for vast stretches of time in order to reach your objective in doing so the game gets you to self-reflect on your journey and as you wander past the occasional broken statue you're forced to consider what happened to this place to make it this empty. Besides the game's main story your given multiple visual cues suggesting that once a village might have been there(I'm referring to the girl who wanted us to search for her stuff standing in front of a collapsed house). Sometimes you could just stroll up and do things without once feeling the need for the game to tell you how to do it and yet that is something you're welcome to try if you're feeling bold you'll get your ass handed to you even by the lower level enemies on the way but there's nothing stopping you the floating piece of rock above the mountains are one of the few distinct landmarks in the distance so why wouldn't you try to get to it even and if you get killed you choose a different direction to go. Although you progress in the world level wise there are still secrets awaiting you and i bet NO-ONE is gonna tell you where they are, except for YouTube Videos maybe.
Another Important aspect of the game is the fact that talking to NPC actually reveals a lot about the place, how it was and how it is was before. It's just like real life where you gotta ask someone about a place you have never been to before so talking to NPC is pretty important, plus they also give you some clues sometimes about where you might find a treasure chest.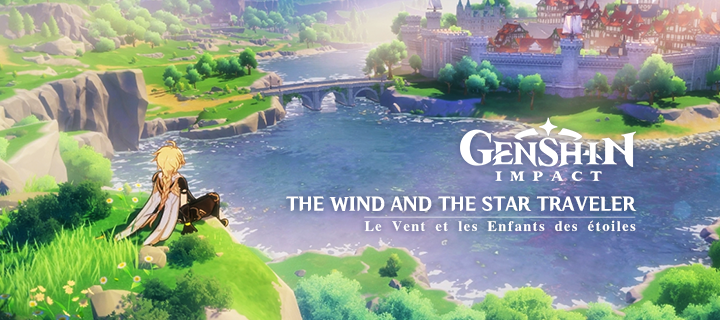 Finally looking towards the Music. Majestic and Befitting are the words that escape my lips.The music in the game is specially placed in some areas. Like roaming on the vast plains with the sun above head is gonna draw out some nice cheerful music while on the other hand if you are on the mountains peaks you'll have some music that expresses loneliness further bringing out the aesthetics of the game.
With upcoming updates i am expecting more from the game now....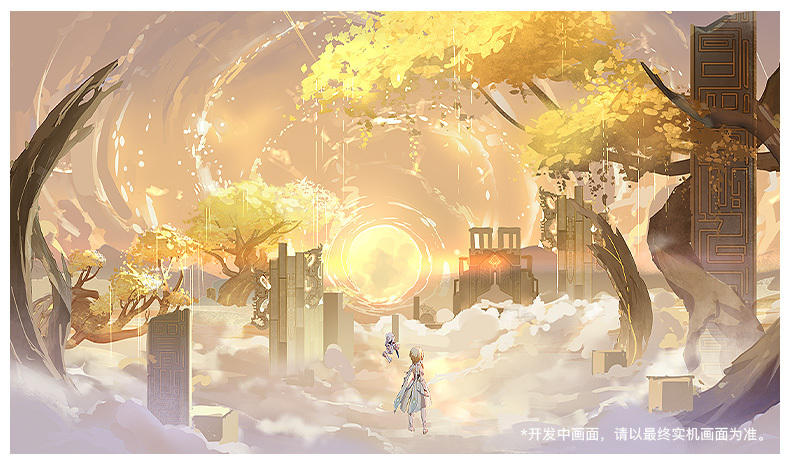 Adieu


Somnium