Translated from https://bbs.mihoyo.com/ys/article/1386313
Alright gonna get to the meat of it and make it short and sweet.
After analyzing a bunch of data, There was some trends seen on the growth of the attack weapons. We'll split these trends into types. The type names are based on their base attack at level 1, i.e. a Type 41 weapon at level 1 has 41 attack
1 Star: Type23
2 Star: Type33
3 Star: Type38, 39, 40
4 Star: Type 41, 42, 44
5 Star: Type 46, 48
Weapons in the same type system have the same attack power and growth trends. What this basically means is that weapons characterized in the same types will have the same base attack and will have the same values at max and limit break levels.
We can look at some examples

This 4 star bow in the type 41 category has attack powers as follows (before and after Limit break)

We can compare these to other type 41 weapons and get similar attack power growth pattern.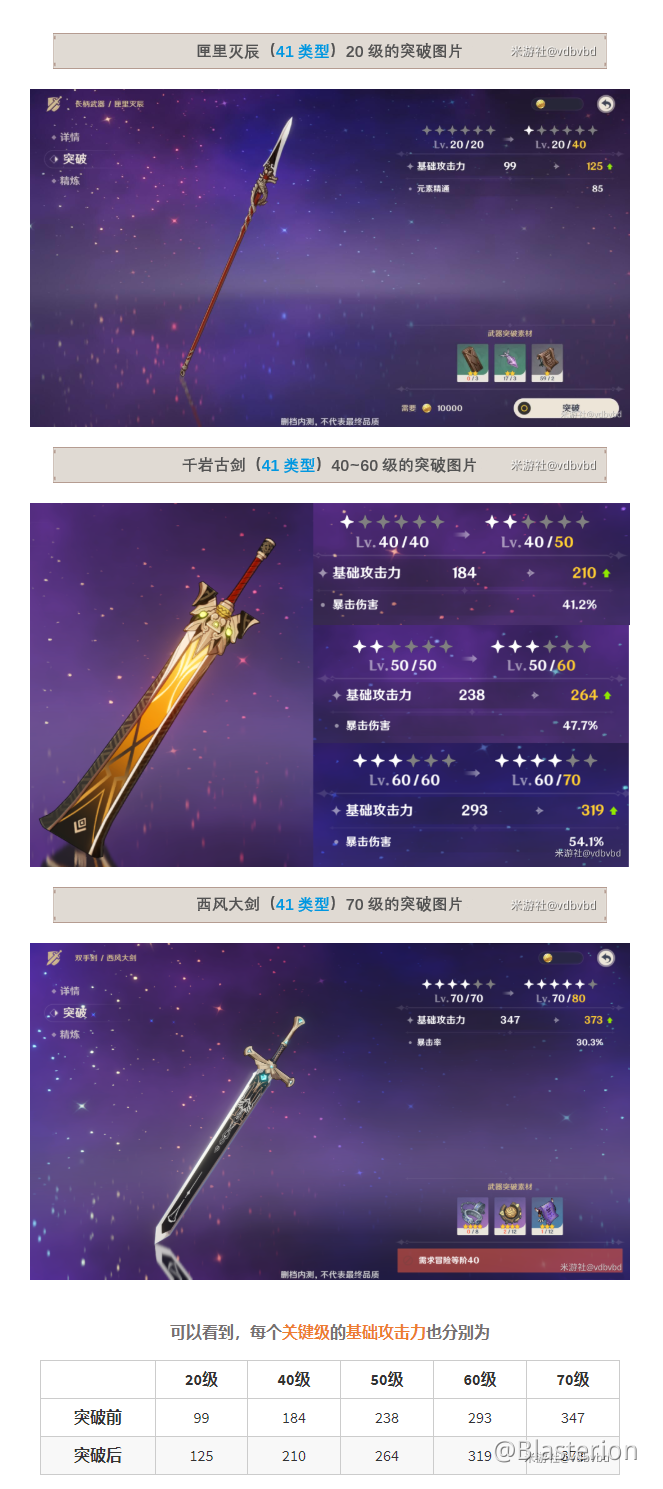 You can reference Weapon types and attack power growth below both before and after limit break. Cells are left blank if data is missing.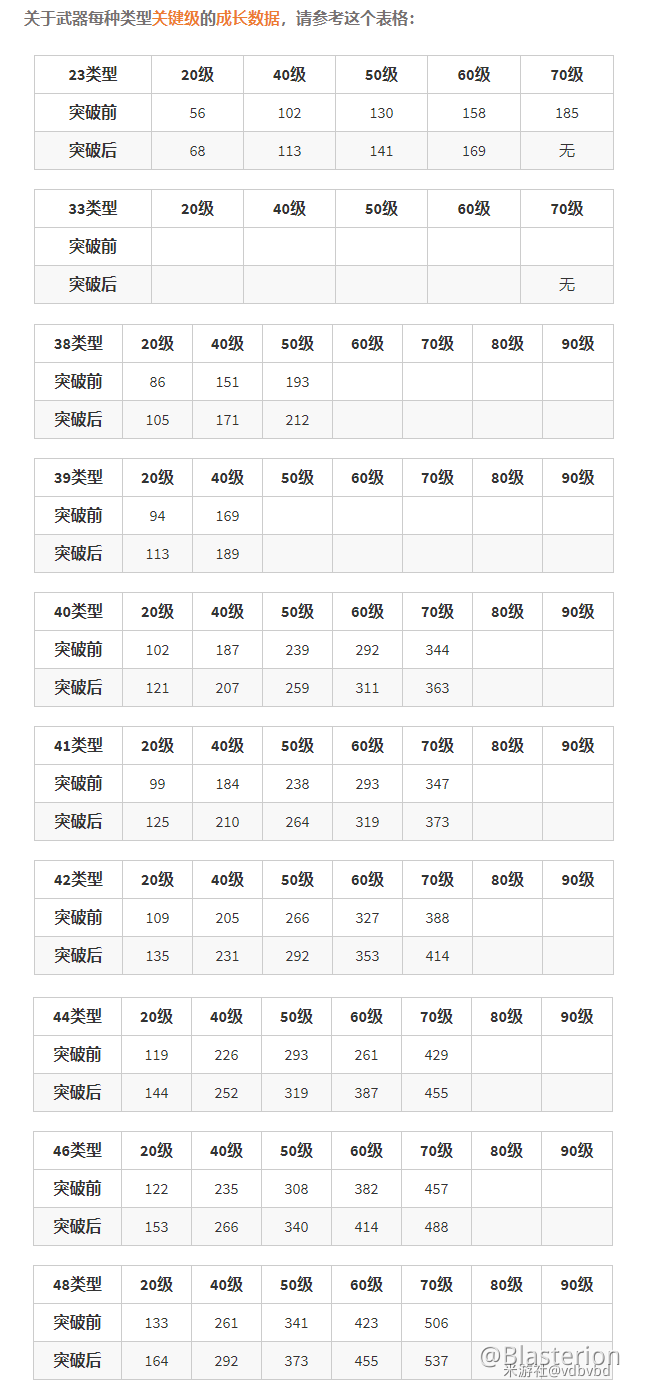 After weapon base attack power we can talk about secondary attributes, of which there are 8 types. Aside from Elemental Mastery all other 7 attributes are percentage modifiers. After looking at the data available we have come to the following conclusions.
Secondary Attribute growth trends have nothing to do with weapon rarity and the kind of secondary attributes they represent.
The growth of secondary attributes are only affected by the base percentage starting out.
Similar percentages have similar growth
Larger percentages grow faster and larger bonuses.
Elemental Masteries function similarly
Pictures

The 4*crit+8% sword has the same growth as the 5*+8% elemental recharge sword (now both at 14.1% from growth and upgrades to 20.6%). And the that's lower than the last 5* +12% Elemental recharge sword which grew to 30.9% (vs 20.6% at lvl 40)
Growth chart
Weapon Refinement.
Weapons can be refined 4 times, to a maximum rank of 5. Refinement increases are similar and incremental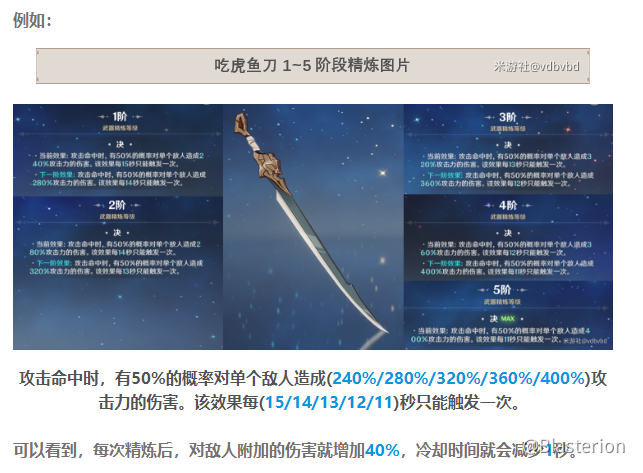 Enemies when hit has 50% chance of dealing damage at 240%/280%/320%/360%/400% increased attack power, the effect can occur once every 15/14/13/12/11 seconds
The Rank increments decrease the cooldown by 1 second and 40% more attack power every rank.
Limit Breaking weapons require 2 types of material
Weapon growth materials https://bbs.mihoyo.com/ys/obc/content/478/detail?bbs_presentation_style=no_header
Common growth materials https://bbs.mihoyo.com/ys/obc/content/117/detail?bbs_presentation_style=no_header
Mats needed chart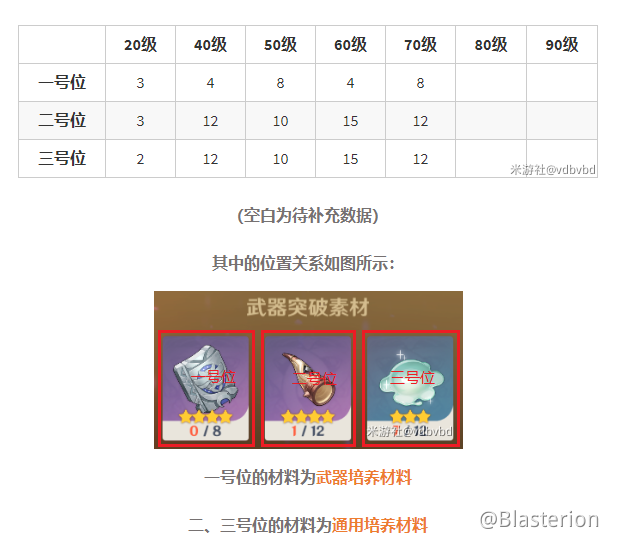 Slot 1 are all weapon mats, slot 2 and 3 are common mats.
Weapons changed appearance at Rank 5 during CBT2, In CBT3 they changed after 2nd Limit Break.
The rest is just a conclusion of everything mentioned above