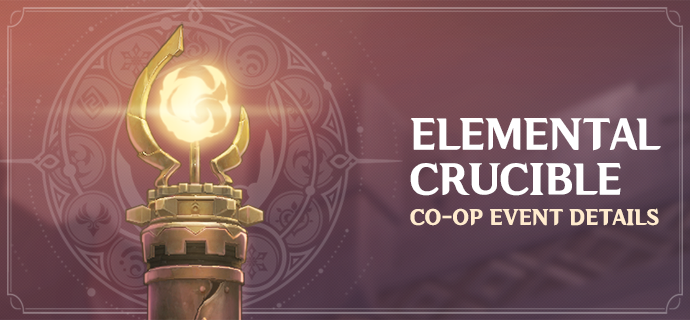 Dear Travelers:
The Elemental Crucible co-op event has begun!
Work together with other Travelers to defeat monsters and shovel Elemental Clots into the Elemental Crucible to advance the alchemical process. After the alchemical transmutation is completed, consume Original Resin to claim a reward. You can also obtain rewards for completing accomplishments in the Alchemy Handbook.
※ When the World Levels of Travelers in the co-op party are different, bounties for all members will be calculated based on the World Level of the hosting Traveler.
[Event Period]
Begins CBT NA: 2020/07/23  04:00 (UTC -5)
[Event Eligibility]
1. Must be Adventure Rank 16 or higher and have completed Prologue: Act II - For a Tomorrow Without Tears
2. Must have completed Timaeus' quest One Giant Step for Alchemy?
[How to Access Event Page]
PC: Press F5
Mobile: Tap the compass icon in the top-right corner
PS4:Press the OPTIONS button

[Response to Issue Claiming Co-Op Rewards]
Some Travelers experienced an issue in co-op mode where they were removed from the party after they consumed Original Resin but before they claimed the rewards, and thus were unable to claim them.
This issue will be fixed in a future version, but until then we ask Travelers to please be mindful and give their party members ample time to claim their rewards.
We sincerely apologize to Travelers for this unfortunate experience, and we've prepared a little something to make it up to you:

[Compensation]
Primogems ×300
Fragile Resin ×10
We will issue compensation to all Travelers via in-game message. The message will expire after 30 days, so don't forget to claim it in time.
[Eligibility]
All Travelers on America/Asia/Europe servers
We will be making adjustments to improve this gameplay in future versions. Thank you Travelers for your feedback and support!