Hey travelers!
Although final CBT has ended few days ago, we are going to keep in touch and will be posting some basic and (I hope) useful guides for new players in order to get prepared for the global launch.
I'm going tomorrow on vacation so I won't be here for a while but don't be sad, I will return soon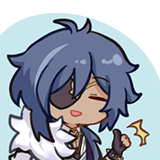 Today we are going to talk about...
Adventurer handbook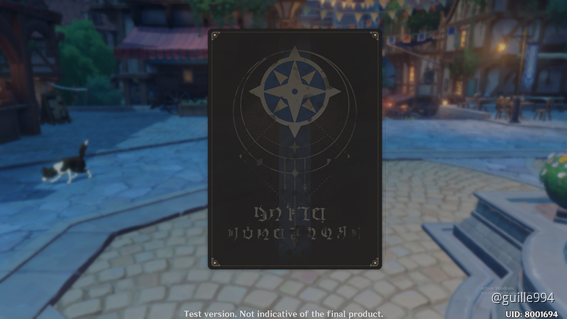 Yes, I'm speaking about that sort of guide or notebook where you can search for useful info for your progression in-game. You can open it whit the "F1" tile, and I'm not sure but I think you unlock this feature when you reach AR 10 (please correct me if it's not true because my memory is a bit laggy hahaha).
As you can see, this notebook has few pages: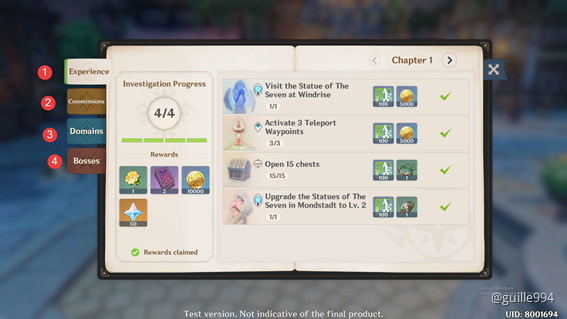 1 - Experience: There are list of quests that help you to grow your knowledge of the game (they work as a kind of tutorial) and you can get suculent rewards while completing them.
2 - Comissions: They are known too as daily quests. Super important to do them daily because the prizes and objects you can get from them are used then for mainly ascend your characters.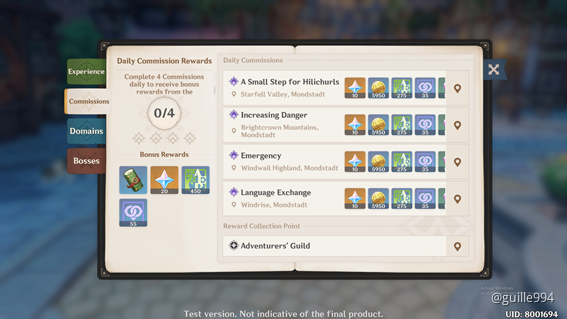 Remember that if you click on the location icon, you can navigate to the place where the comission is in the world map: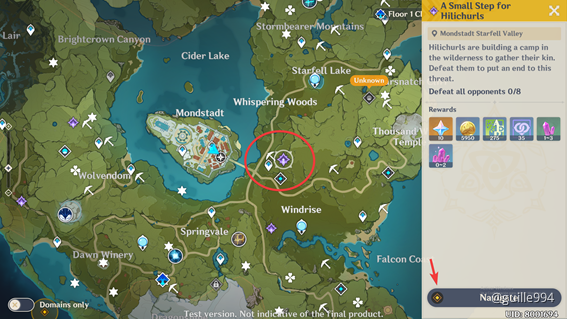 3 - Domains: This page is also important. You can see which domains/dungeons are avaliable for you and which rewards you can get from them (there are some that give you weapon ascension materials, and others give you artifacts for your characters). You can also check the Spyral Abyss page here, where you will know in which floor you are and the rewards that you can gain beating them.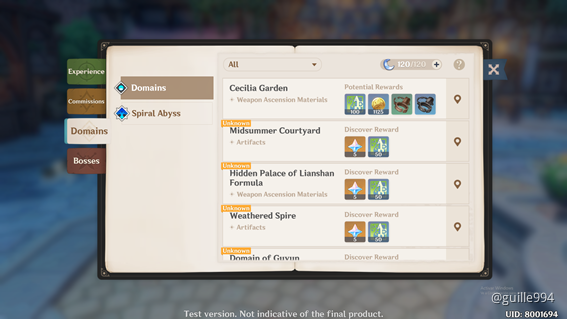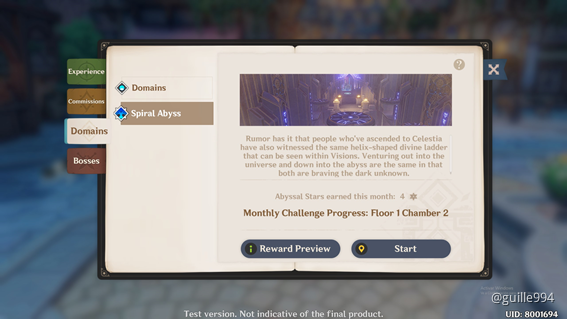 4 - Bosses: Another important page. Here will be listed all the bosses that you can defeat for having some materials and money. You can sort them out by region (red arrow), and remember that it's necessary to have fragile resin to collect their rewards.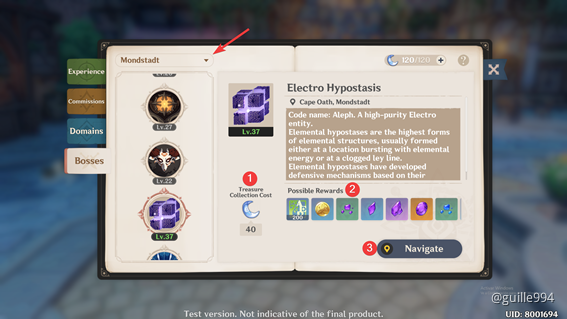 Finally, I would want to share with you the screencaps that I took from all the quests of the experience page, I think it may be interesting if someone want to recopilate this info for making further guides.
I was able to reach only chapter 6, hoping to have more time to play in global launch. If you have more photos of the further levels, please leave them in the comments box:
Chapter 1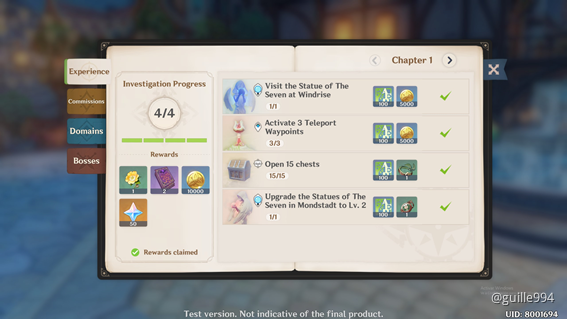 Chapter 2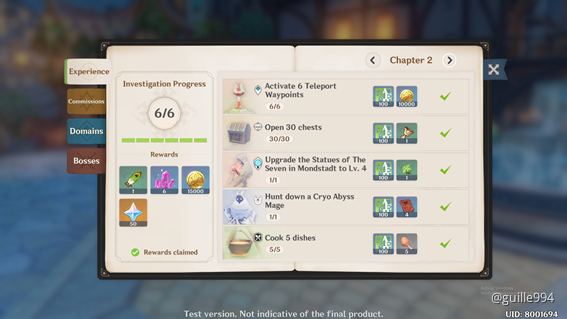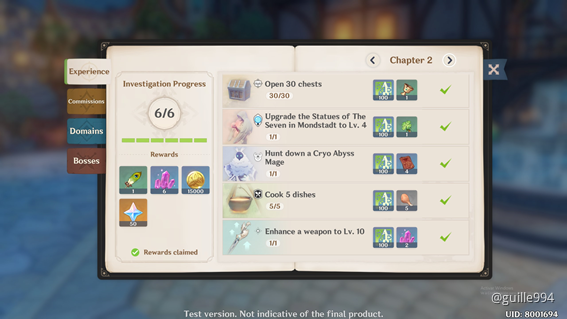 Chapter 3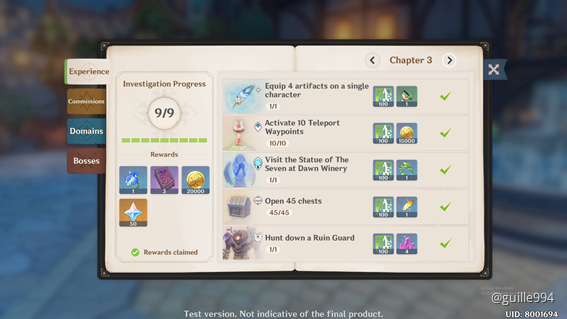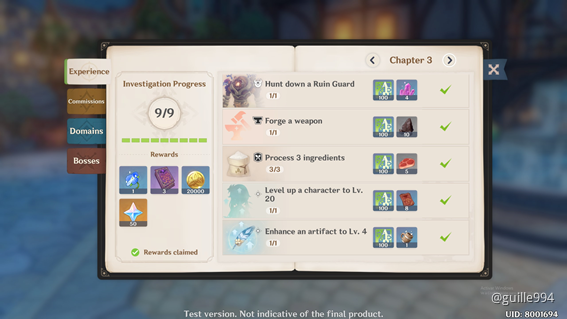 Chapter 4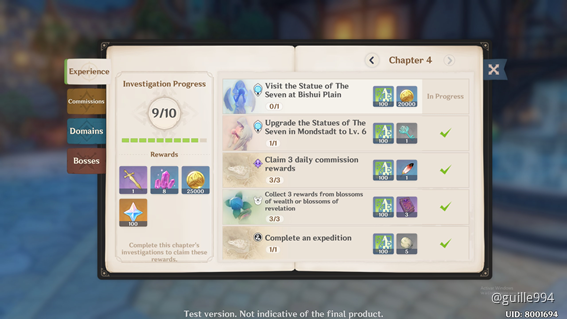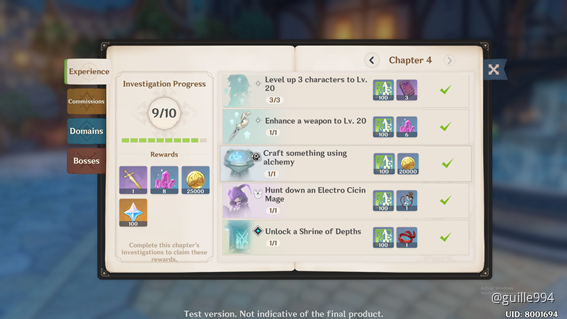 Chapter 5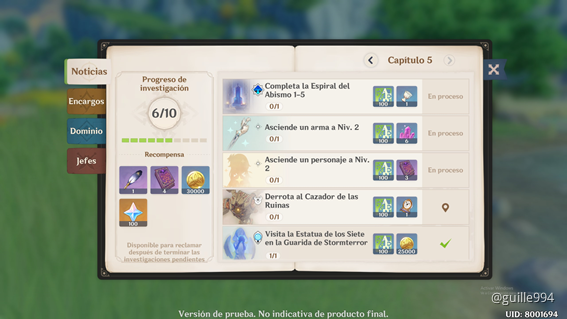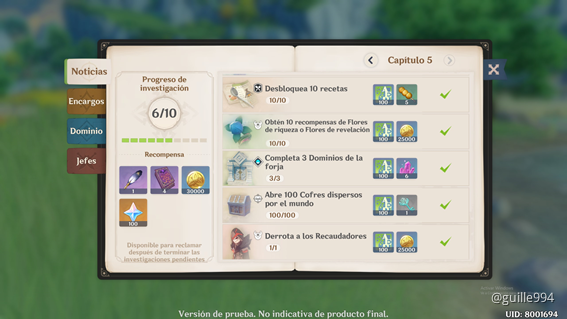 Chapter 6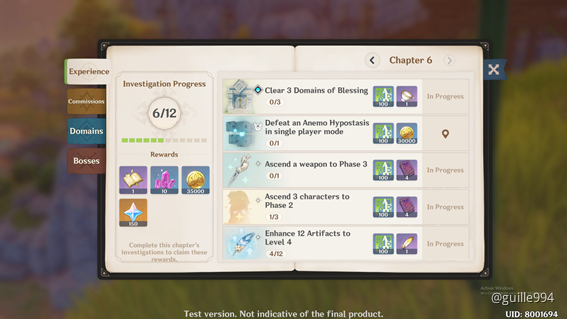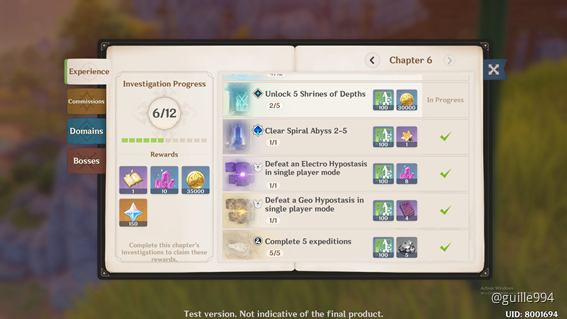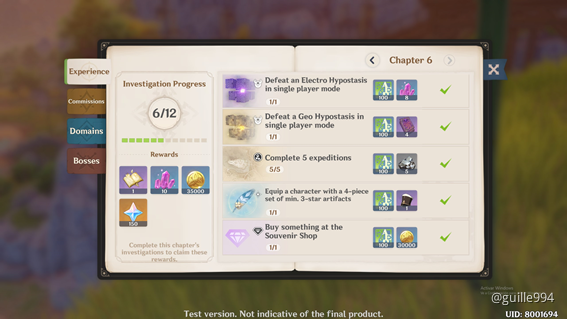 Hoping that all of you are safe and enjoying your holidays!! We will see us soon in Teyvat again!
---------------------------------------------------------------------------------------------------------
You can visit my previous guides by clicking them in the list below!
[Guide] Character and weapon progression
[Guide] Tips for beginners and increasing AR!
[Guide] Beginner's guide of Teyvat
Thanks!