The first thing I noticed about Keqing is her title. Yuheng of Qixing. So majestic, so Chinese, and so confusing. I mean I understand if they leave her name untranslated, but this is her title, in English, with a grand total of one English word. Of course, I don't understand what it means. So, it is time to ask my loyal and trusted friend: Google.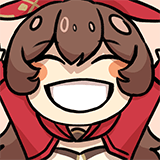 Her title has 2 words Yuheng (玉衡), and Qixing (七星).
Qixing means Seven Star, and is the Chinese name of the Big Dipper. Seven star is a popular name for a group in Wuxia novel (for example, the antagonist faction in Volcanic Age has a Seven Star group. Good Manhwa, btw). This means we might have 6 more characters from this Seven Star group in the future.
And Yuheng is actualy the name of one of the Seven Star: Alioth.
So, the blind idiot translation of Keqing's title would be: "Alioth of the Big Dipper". Sounds bad? How about "The fifth of the Seven Star"? Better?
Anyway, my nickname for her will be "Epsilon" from now on. Bye.